---
Results:
Based upon our domain and user research, and following the UX design process - we developed a web app that aims for a balance between powerful data analysis and ease of use. The site centers around a dashboard, with health programs focused on a main mapping screen with data and analysis panels, as well as admin and org functions required by NGOs dealing with patient-level data. We also discovered notifications were of great interest and potential value, so we designed a notification system tied into program goals and patient health data.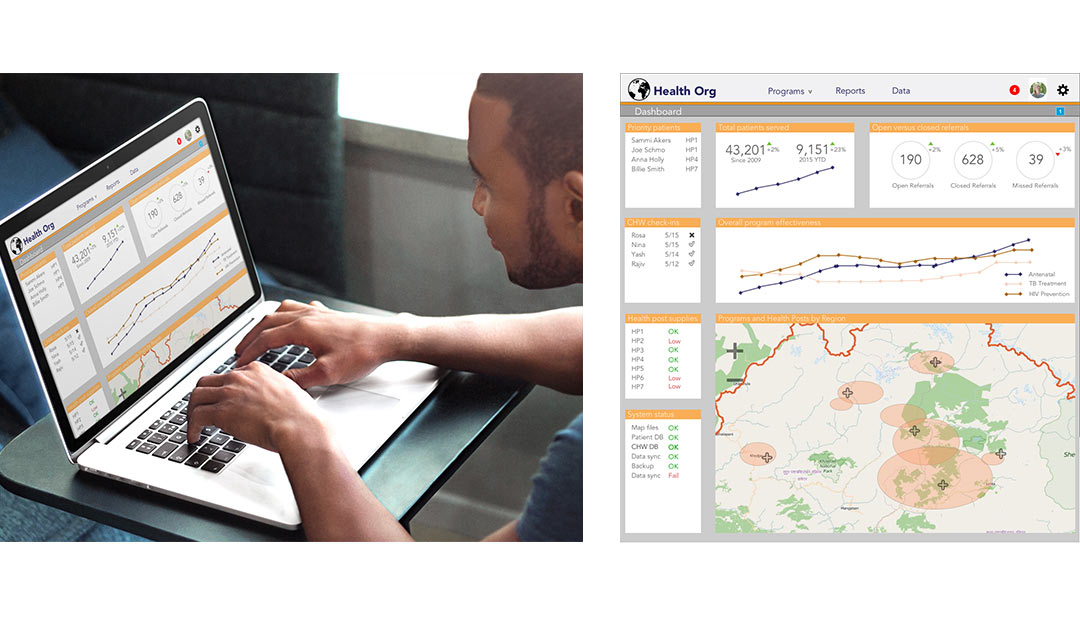 A comprehensive and connected dashboard gives proactive alerts as well as easy access to program goals, KPIs and reports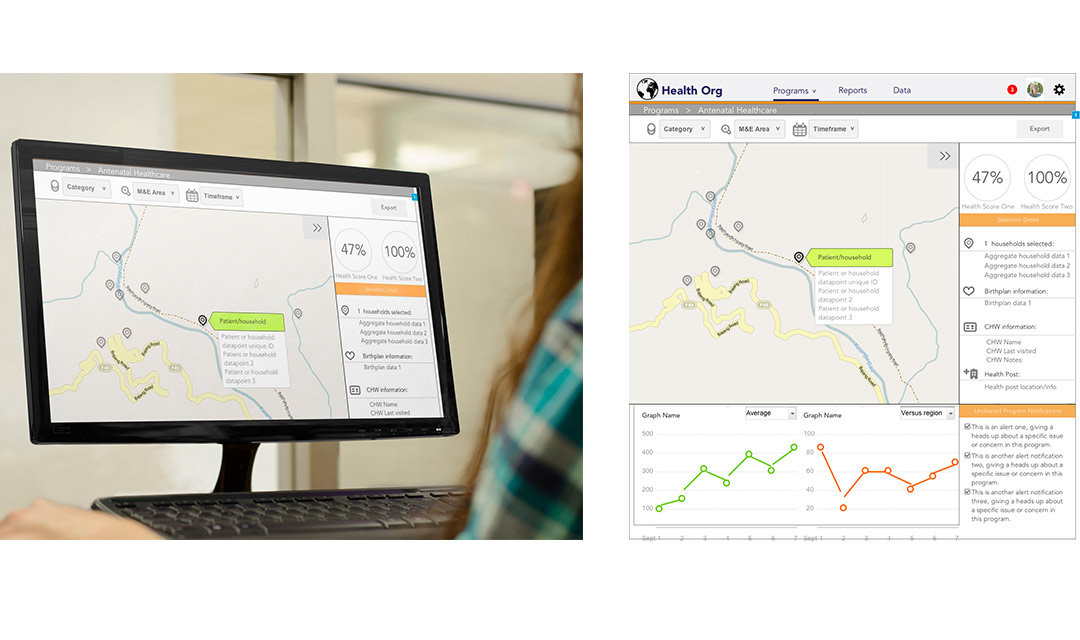 A simple, but powerful mapping screen is the core of the app. Detail panes are contextual.
---
Process:
This project involved a heavy amount of domain research: both health-related NGOs and the CHW model itself required a great deal of investigation to become up to speed and conversant in a culture rife with acronyms and staffed with very, very busy and very, very smart people and teams.
Thankfully our client was exceedingly helpful in providing access to initial research materials that helped us get our heads into the space, the players, and the CHW model. From there we conducted competitive and comparative analysis as well as heuristic analysis on the key players in the space, and were fascinated to find the number of companies developing products for NGOs. We paid close attention to companies or products that tackled both mapping as well as data presentation.
Next we turned to Skype interviews with CHW PMs and those familiar with the space - our research took us all around the world: from Seattle to Washington D.C., to people working in rural communities in Thailand, Peru, Liberia, Togo and Rwanda. As this is a relatively niche space and our project required access to people with specific knowledge of the space, we focused our research on deep, high-quality interviews: our subjects were uniformly extremely intelligent and insanely knowledgeable and eager to speak with us about the challenges they face, most calls were about an hour. Audio recordings helped ensure we could review the deep material.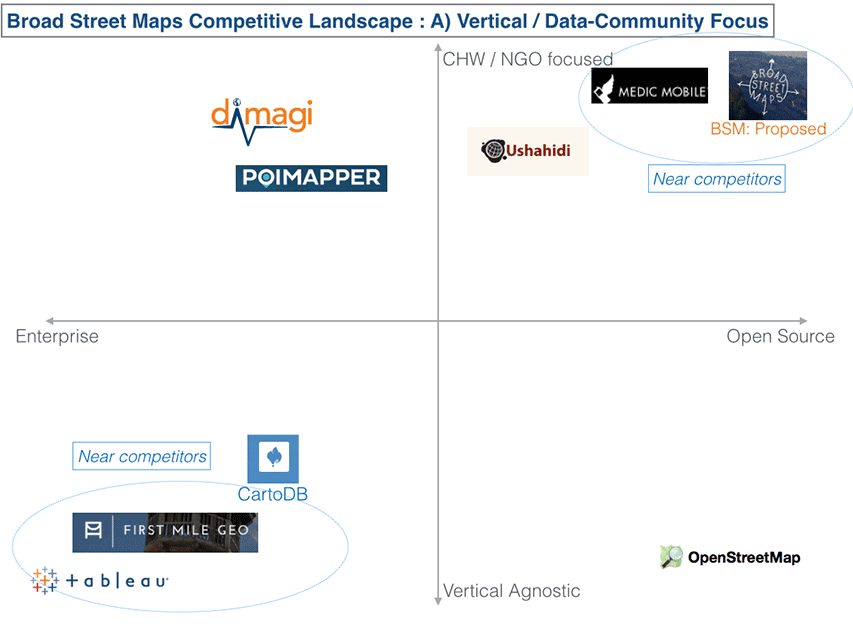 Investigating the space, and identifying the main players was an initial challenge. Thankfully our clients were well equipped with great resources to help us get started. I created several looks at other players in the space, and how Broad Street's product could fit in.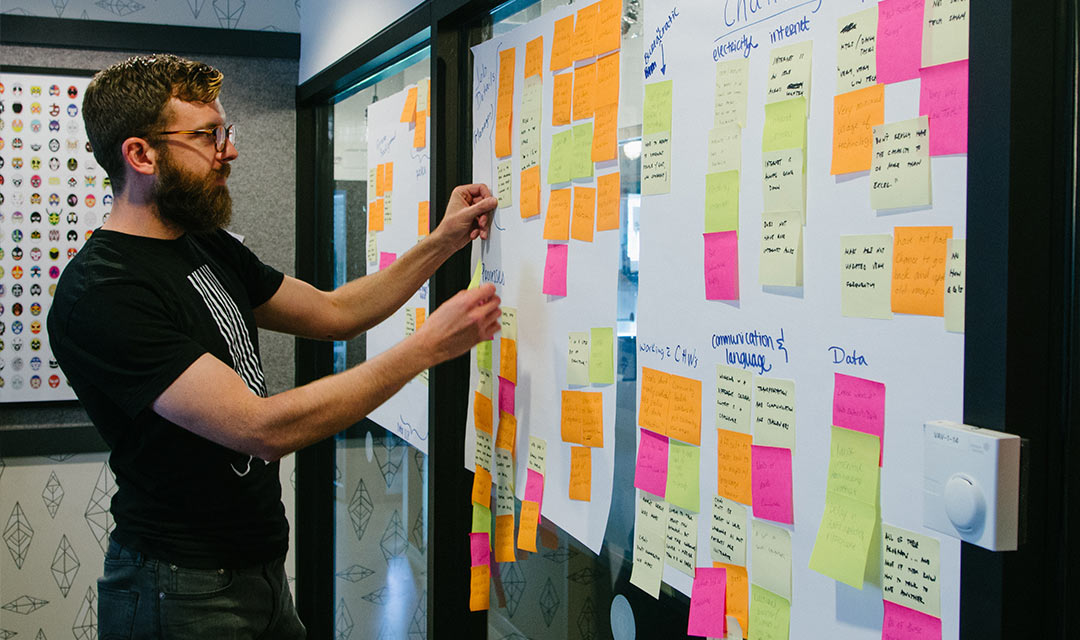 We used several rounds of affinity diagramming to develop our persona and identify motivations and pain points.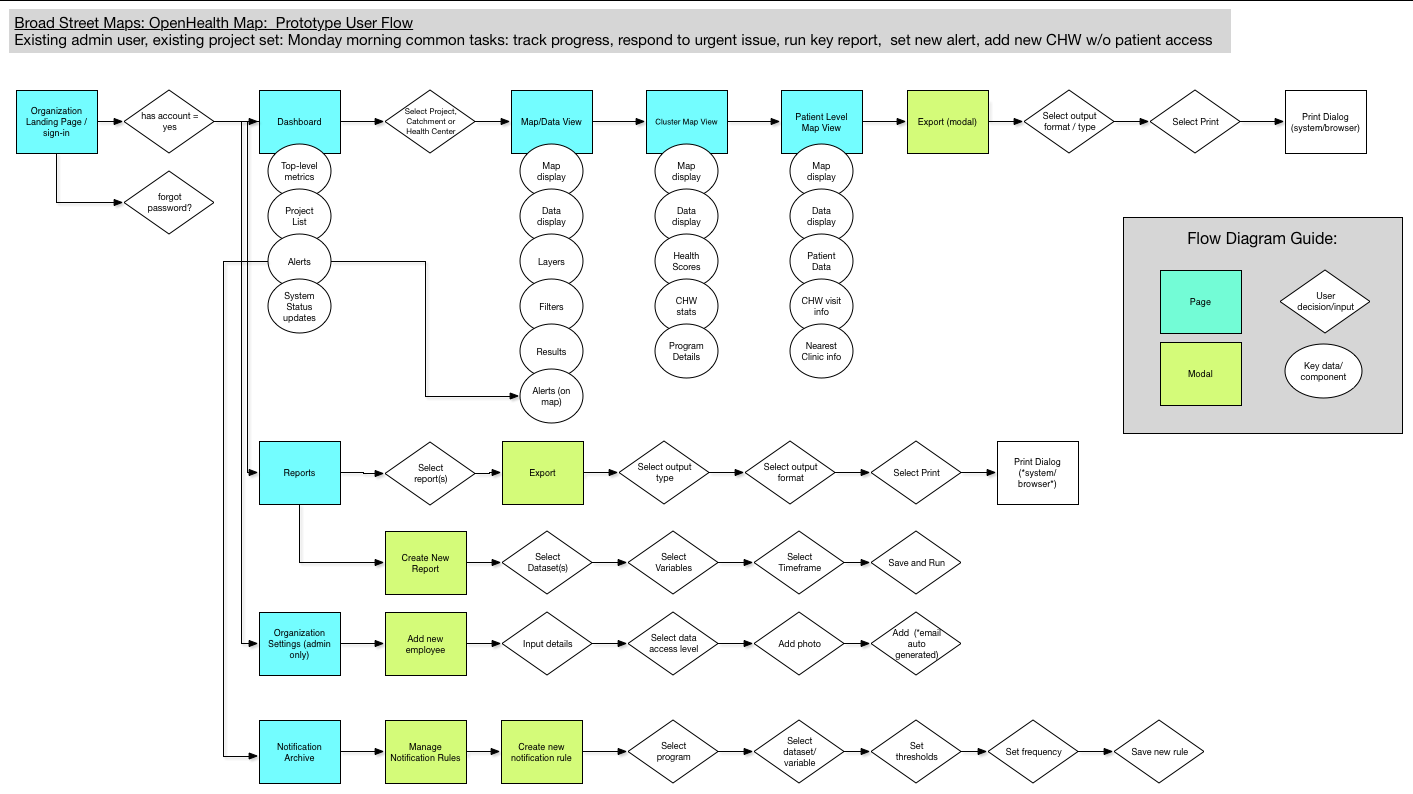 We did many rounds of userflows on whiteboards and paper, this electronic version came later.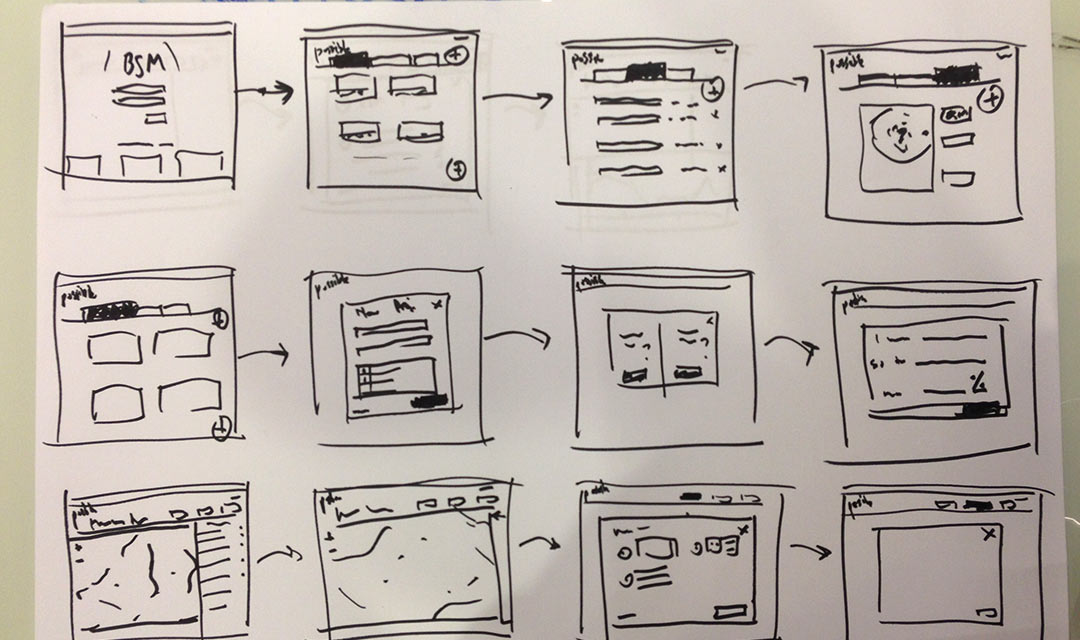 Our team held a timeboxed design studio session to help us brainstorm ways of tackling the design. Here is one of my sketch flows from the session.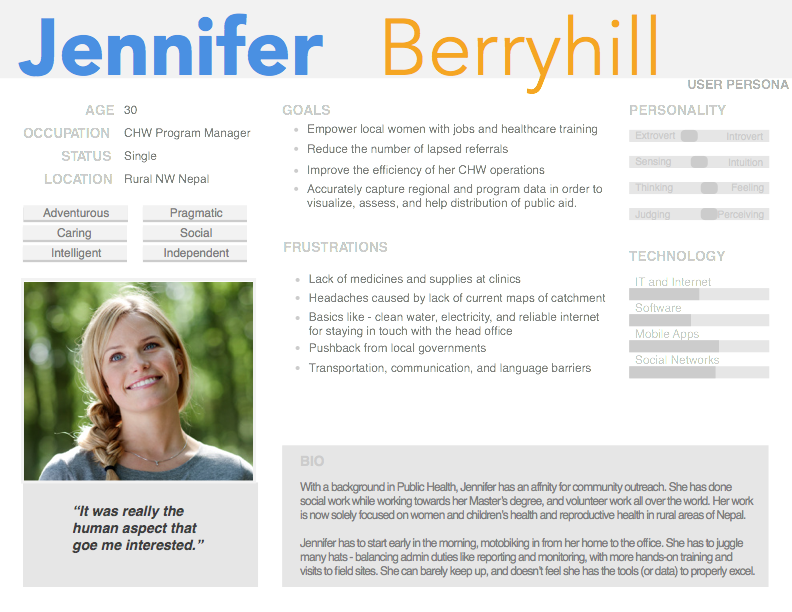 Using both the domain research as well as the rich interviews we had with CHW Program Managers, we developed a composite persona to aid the design and development process.
---
Retrospective and Next Steps:
While the domain proved to be challenging to get up to speed on initially, our team pushed hard and by the end of the project we are all excited to see where Broad Street Maps takes things from here. The challenges of the CHW PMs became amazingly clear, we gained a ton of respect for these smart and driven people tackling big problems in challenging circumstances. We flagged a number of assumptions that will need to be delved into further and tested when possible - access to reliable electricity and high-speed internet access are fundamental challenges that will likely impact both development complexity as well as implementation feasability.
We are working with Broad Street Maps to help conduct further usability tests with CHW PMs in-field, as well as encouraging the use of more quantitative measurements to help validate some of the main assumptions.
We learned a great deal, and our clients were happy to get a dynamic prototype they could use to push their project to the next level.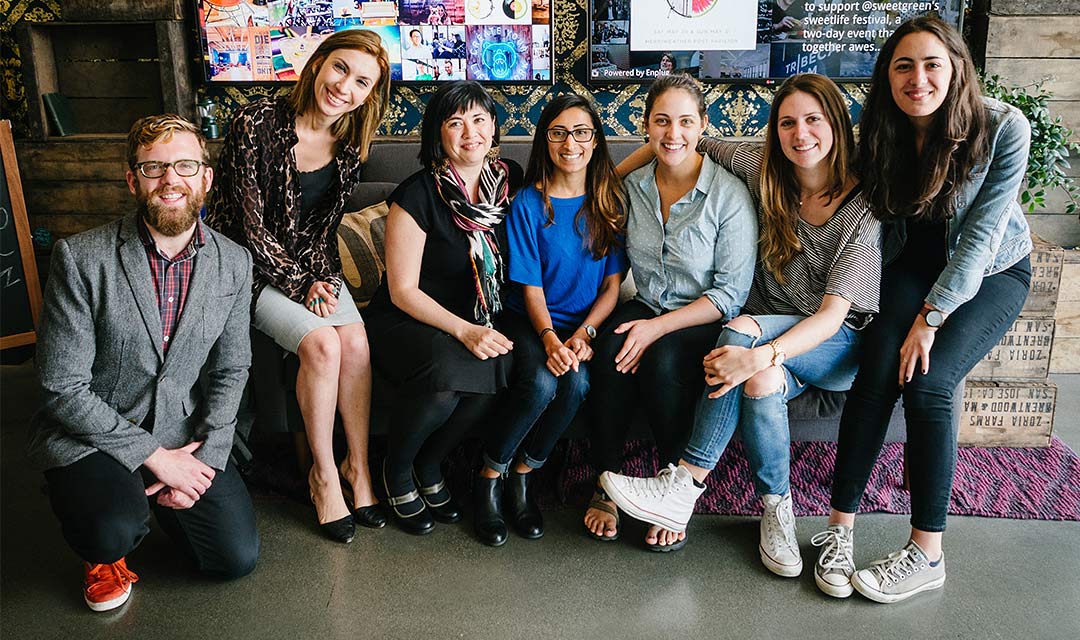 The GA UXDI and Broad Street Maps team together.