---
Results
Based upon user interviews, domain research, persona development, heuristic analysis and multiple rounds of usability testing, we created an augmented prototype of the Etsy iOS app with the concept feature and flow embedded. Our flow consisted of a project creation phase on the buyer side - including inputting specific criteria and requirements for price, timing, and materials. We concentrated heavily on the status indications, bid alerts, and other ways that would help keep the buyer (and the artist) informed about what is going on with the project. Our research showed real interest in the feature and concept. 90% of the Etsy buyers we showed the prototype to were strongly interested in using it. A few were disappointed to learn this was purely a spec piece at this stage.
Etsy: Made For You demo video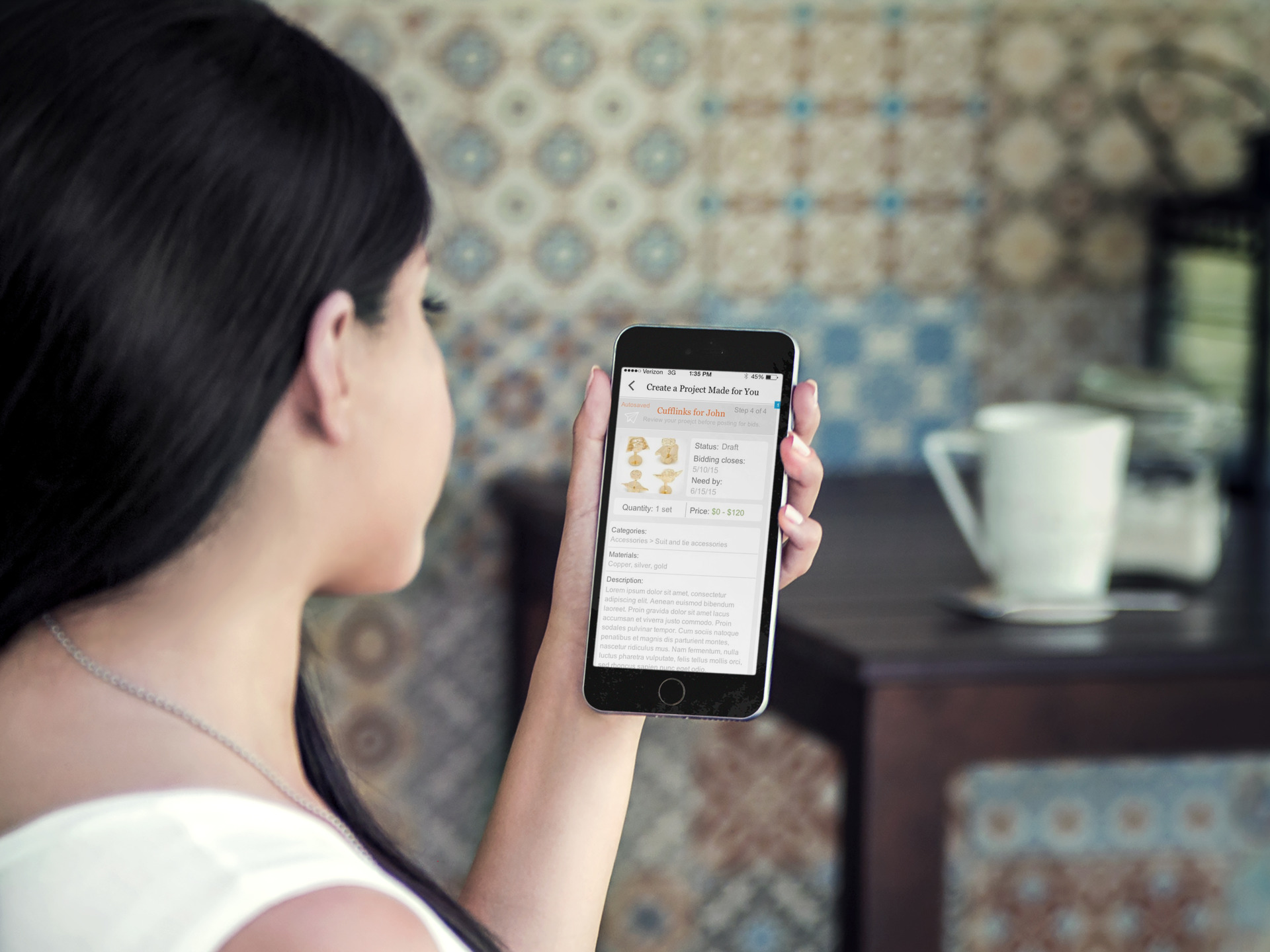 Mockup showing the project review page, the final step before the user submits the project out for artists to view and bid upon.
---
Process:
After completing domain research on both Etsy, and their main competitors - we realized that there might be a real opportunity here. Etsy doesn't currently support fully custom items - only variants of size, color or other variables. To get a custom item made now requires the buyer and artist to go offline - circumventing Etsy's system entirely. Otherwise we found buyers who choose to leverage local makers and artisans when possible, rather than via online. But all had interest in augmenting their existing Etsy services with custom work.
Using affinity diagramming and notes from our interviews, we created a persona based upon facets we observed - and thus our persona Heather Lane came to life. As the feature would be very flow dependent - we spent a good deal of time focused on variants of the user flow until we came to a consensus - a path that would keep buyers and artists informed and would aim to keep the whole process moving forward quickly (many of our interviews mentioned timeliness as a major factor in their preference for one artist or another.) We also developed a system for dividing up work amongst a team of designers - we identified modules and design patterns that could be repeated, and organized our work around these themes. We then moved into rough wireframing using Balsamiq both for speed and for testing early flow concepts. The latter stages of the project were spent developing an interactive prototype using Axure - something the team split up based upon the design modules we had sketched out earlier in the process.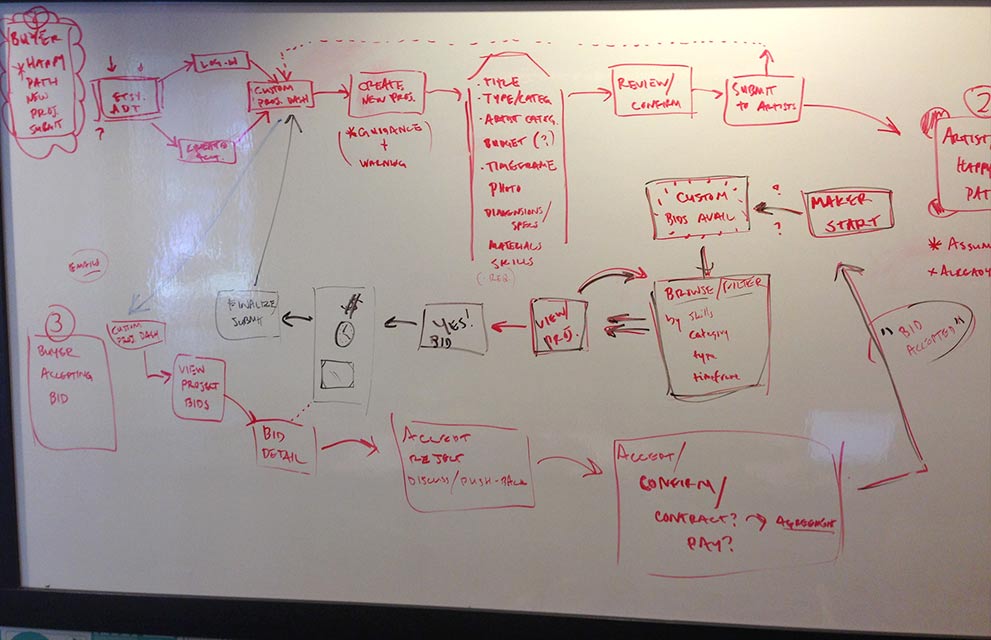 Sketching out a draft flow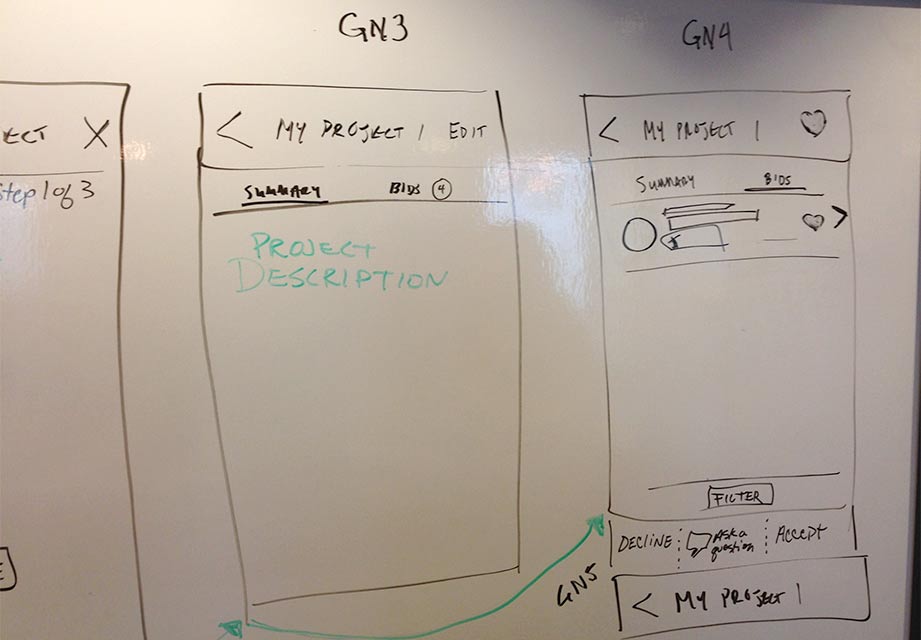 Drafting and organizing around design modules for efficient team design work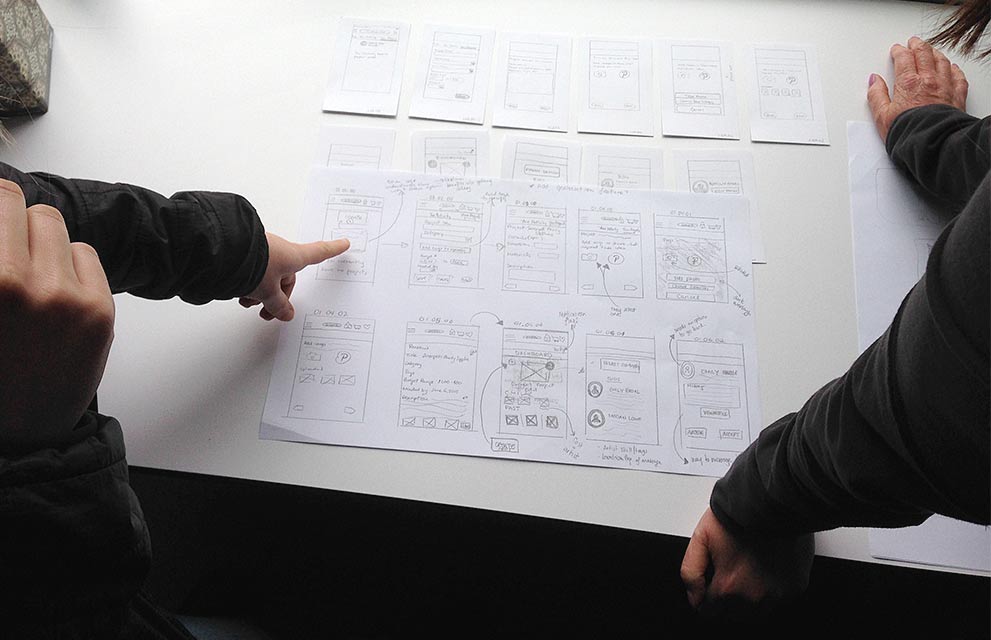 Testing flow options using paper prototyping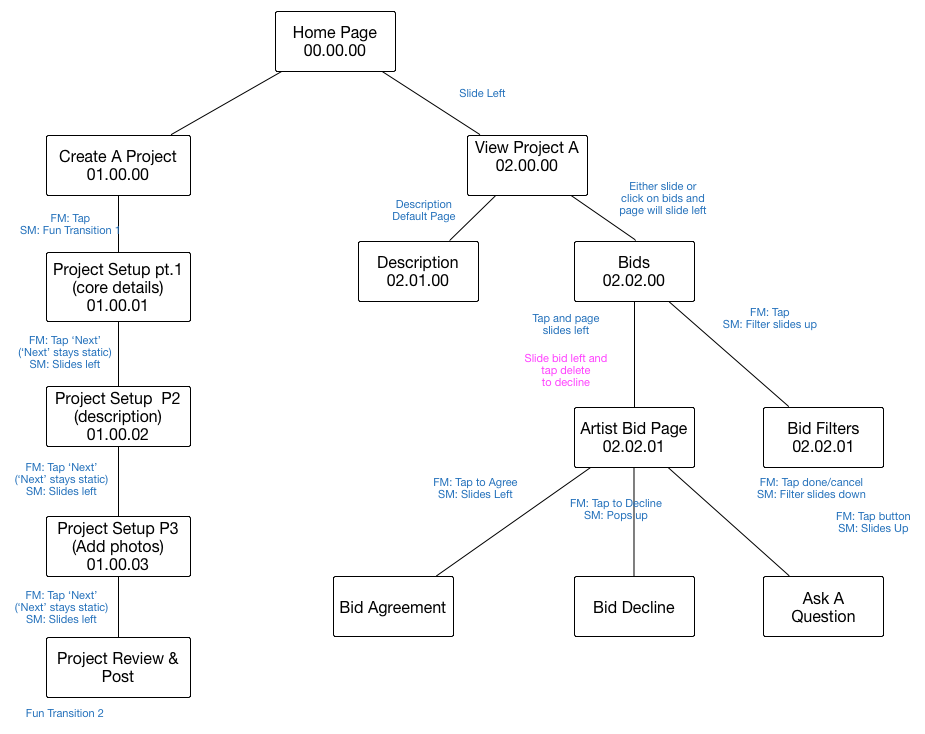 We designed a sitemap that also helped us track on screen/swipe interactions and design modules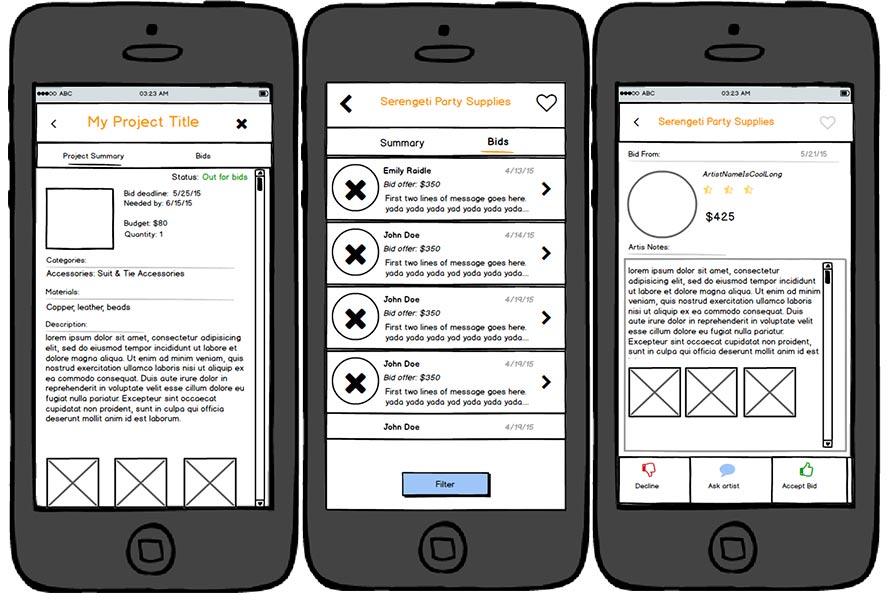 For speed, we used Balsamiq for a few rounds of low-fi wireframing.
---
Retrospective and Next Steps:
This effort was a fascinating challenge: to add a feature leveraging a highly known and defined set of app styles and interactions across a team of designers. It was both a blessing and a curse - we had a great model to follow, but held ourselves to high standards to try and acheive the clean and simple visual and interaction design of the Etsy app. We all learned a lot about how to efficiently organize a design team around a common project and set of styles and resources.
Our tight project timeline cut short further rounds of usability testing - something that could only benefit the concept further. One participant (besides helping us name the feature) actually suggested a more holistic 'inbox' approach for bids and actionable items across projects - something that we would have loved to explore and test had we had the time.

Mockup showing the project list view in action. We were able to leverage Etsy's existing iOS styles for lists, notifications, and messaging.